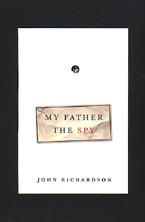 My Father The Spy, An Investigative Memoir
THE NEW YORK OBSERVER
July 29, 2005
John Richardson Sr. was an idealist: a man who loved great literature, Thomas Jefferson, and democracy, a Quaker who undertook dangerous missions during WWII. He also witnessed Tito's slaughter of Germans and Croats, as well as Stalin's pause outside Warsaw while the Germans went about their dirty work in the city; these experiences led him to join the fight to thwart communism. As he shifted from the OSS to the fledgling CIA, John Sr. essentially became a classified secret himself, and John Jr. lost his father, who was out of the loop. The author pores over all the evidence he can find concerning his father's role in various authoritarian outposts, endeavoring to make sense of an honorable man who helped facilitate a foreign policy that increasingly relied on despots and thugs. He tracks Dad from Greece to the Philippines, Vietnam during the cheery days of Diem and Nhu and strategic hamlets, and finally to Seoul under the thumb of the grim Park Chung Hee. Richardson never learns exactly what his father did, but he does artfully draw the family's home life in all its stress, distance, and disconnect John Jr. and his sister were very much a part of the counterculture; their behavior could easily rub their father the wrong way. John Sr. was patient and decent—he railed against the ugly Americans—but he held the conviction that "we have to support vicious dictators because an authoritarian government can evolve but a totalitarian government can only be opposed from the outside." He took his authoritarian poison, Richardson notes, and "stored up the raw material for a lifetime of regrets" … a beautiful, gracious act of connection with a man who kept his secrets.
-Michael Janeway, Columbia University  professor and author of The Fall of the House of Roosevelt: Brokers of Ideas and Power from FDR to LBJ.
THE WASHINGTON POST
July 31, 2005
In the 1950s and '60s, the so-called golden age of spying, CIA station chiefs were not so much spies or spy runners as proconsuls. In the "third world," on the front line against communist insurgencies, they often had more influence than the American ambassador and sometimes more real power than the local strongman. With their bags of cash and imperial writ from Washington, their diplomatic covers and ties to the local secret police, they could prop up or bring down governments. They were moral authorities, though sometimes Machiavellian ones, in the long twilight search for benevolent despots who would stand up to the communists and — one day, it was hoped — usher in free-market democracy. John H. Richardson was one of the best of the breed — or, depending on one's point of view, one of the worst. As Vienna station chief in the early '50s, he ran the CIA's first Soviet "mole," Col. Pyotr Semyonovich Popov of the GRU, or Soviet military intelligence. In Athens in the mid-'50s, he helped support the Greek monarchy against communist insurgents. In Manila, when Philippine President Diosdado Macapagal was inaugurated in 1961, Richardson was the shadowy man standing by the president's side on the reviewing stand. His reward for services rendered was the toughest job in the CIA portfolio: Saigon station chief in 1962  … includes some wonderful snapshots, like the CIA's super-spooky counterespionage chief James J. Angleton going fishing — and taking along a pair of "secret spy glasses that helped him see the trout …"
-Evan Thomas
author of The Very Best Men
BOOKLIST July 1, 2005
When Esquire writer-at-large Richardson tried to learn more about his late father, who was a top CIA agent working some of the major political hotspots of the past 65 years—Nazi Germany, the Soviet Empire, junta-controlled Greece, Ferdinand Marcos' Philippines, Park Chung Hee's South Korea, and South Vietnam in its final days—he made an unsurprising discovery: "My own father was classified top secret." In the face of that challenge, however, Richardson has pieced together a remarkably full and literate biography of his dad, drawing on his father's pre- and post-Agency correspondence, conversations with his father's former colleagues, and published writings and testimony about the CIA. Equally compelling is the story of the author himself, who lived a lavish and exotic life with his parents in most of their postings but rebelled against what his father and the CIA represented. In the stories of father and son, readers will not only find absorbing narratives but will also divine the early signs of America's now highly contentious culture wars.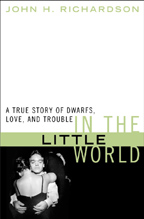 In The Little World, a true story of dwarfs in love, winner of the Elle Magazine "Reader's Prize" – "a compulsively readable, raw yet scholarly take on a marginalized side of humanity … brilliantly illustrating the universal human experience …"
 "a gutsy personal narrative …" – The Austin American Statesman
"a surprising glimpse into what it means to be different." -People Magazine
"Wonderfully done … riveting storytelling …" – Newsday
"… if there's one thing that distinguishes Richardson, aside from his pleasurable alfresco style, it's remarkably impulsive honesty …" -Kirkus Reviews
"A remarkable, deeply serious book …" – The London Evening Standard
"…entertaining and brutally honest … this is a work whose significance will increase …" – Library Journal
"…when the little people take him to task after reading his Esquire story, the narrator free-falls into his own narrative. "You say you want the truth and you want to be treated like everyone else but you don't," he tells one critic. "You just want more happytalk bullshit about big hearts in little bodies and how we're all the same under the skin and beauty is only skin deep and I'm not going to do it. It's a f—-ing lie!" This lapse could have been the book's great flaw, but it isn't. That's because the questions Richardson must answer about his own prejudices and relationships are the ones we all have to face, and they are much more interesting than the details of little people's Internet romances or the trouble they have climbing stairs. What begins as a clever, sometimes ironic peek into a subculture evolves into a dialogue about beauty, relationships and civility that is equally painful and dangerous for Richardson and his small friends." – The Ottowa Citizen
"I'd been thinking about the subject of dwarfs this past Christmas, as men are wont to do, when I happened to see a copy of John H Richardson's new book, In the Little World. I'd be lying if I didn't concede that part of me was thinking, "This should be good for a laugh." I started reading the book half expecting to be thrown into a world circus performers and three-foot actors, with stories of flaming hoops and Austin Powers jokes. In the Little World has none of that. Instead, it is a Grade-A, 100% mindfuck of a book. Richardson develops relationships with several dwarfs, and their experiences, combined with the travails of little people throughout history, hammer away at very concepts of good and bad, of fairness and bigotry. John certainly doesn't stay away from pointing a finger at the dwarf-o-phobe that lies within most of us, but neither does he lay out a simplistic, politically correct song and dance about how we should all love one another. Instead, John ask questions… of the reader, of society, or dwarfs and of himself. The result is not just a tome on the world of little people, but a heady look at beauty, sexuality, spirituality, politics, evil and the every other element of the complex glue that both unites us and keeps us apart. It's impossible to read this and not seriously question the tenets of the moral framework you apply to your life. – Acid Logic By Wil Forbis
Read the Acid Logic interview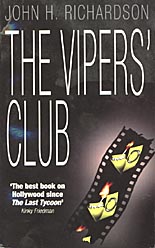 The Viper's Club, a novel of Hollywood in the '90s.
"This exceptional Hollywood novel details the adventures of a harried assistant, slave to a high-powered tycoon, who becomes in drugs, gorgeous B-girls, hard-boiled cops, booze, murder, and well, the usual L.A. lifestyle and workplace stuff except (perhaps satirically omitted) the makings of movies. Brightly written, acerbically insidely, and often funny as hell, the novel succumbs to perhaps an inappropriately happy ending, but Richardson's chief success is in his creation of an overbearing, megalomaniacal action film producer who is half-Frankenstein, half Frankenstein's monster – a witty classic of the genre. Highly recommended." – David Bartholomew, Library Journal
"In this '90s twist on The Day of the Locust – Nathanael West's memorable 1939 noir novel of Hollywood – former Premiere senior writer Richardson gleefully sinks his fangs into the Dream Capitol … As the action swirls from a punchup at Morton's, the exclusive industry eatery, to oddly decorated back-lot bungalows to mirrored Beverly Hills love nests, snakeskins are shed. But whodunit – if anyone dun it – is not nearly as interesting as why dunit. In a town where image is everything, the eleborate case and its attendant publicity are merely a setup to convince Tom Hanks to commit to a certain project. As a reader, you'll have no trouble committing to Vipers. – J.D. Reed, People
"One terrific satire about power in America, Primary Colors, has just been joined by another, The Vipers' Club. Like Anonymous, veteran Hollywood reporter John H. Richardson uses the relationship between an ambitious young assistant and the monstrous life force he works for to create a complex portrait of a tough business." – Elle